This year's Baja 400 doubled as a qualifier for the Super Bowl of off-road, the Baja 1000. A good finishing position in this race means a good starting position for the 1000 in November. Drivers were at the top of their game as they gunned for the top spot in this brutal 400-mile battle.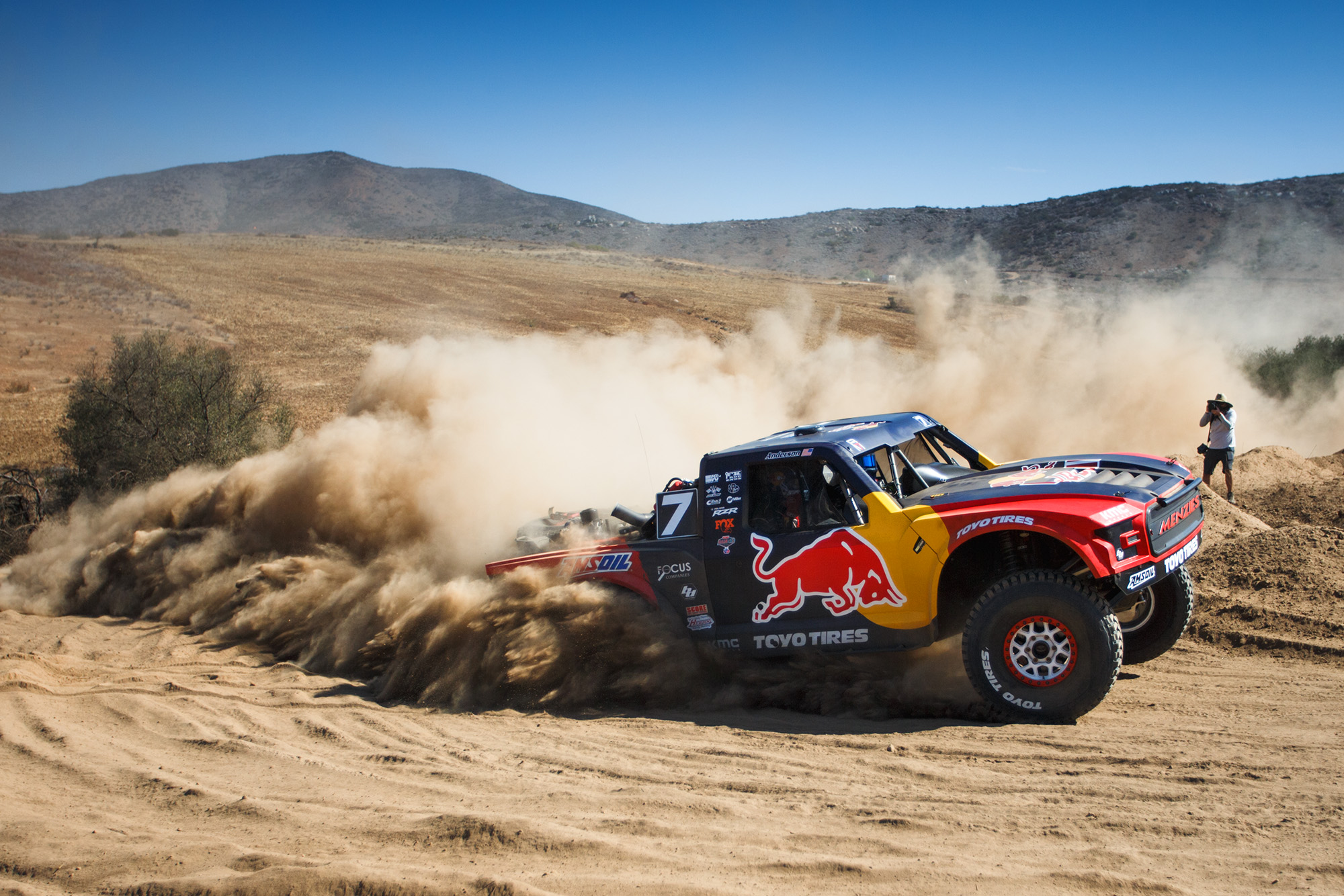 San Felipe 250 winner Bryce Menzies qualified first and never looked back. The #7 AWD Mason truck powered through the 400-mile course with no issues and received no penalties. However, it was a hard-earned win. "This one was technical. A lot of turns, a lot of technical sections, I really had to pay attention to every single corner; you had to pay attention every minute. We have the number one starting position for the B1K. We've been chasing a win for 10 years, hopefully this is our year". Bryce finished the 400 with a total time of 8:26:59 and will be first off the line at the Baja 1000.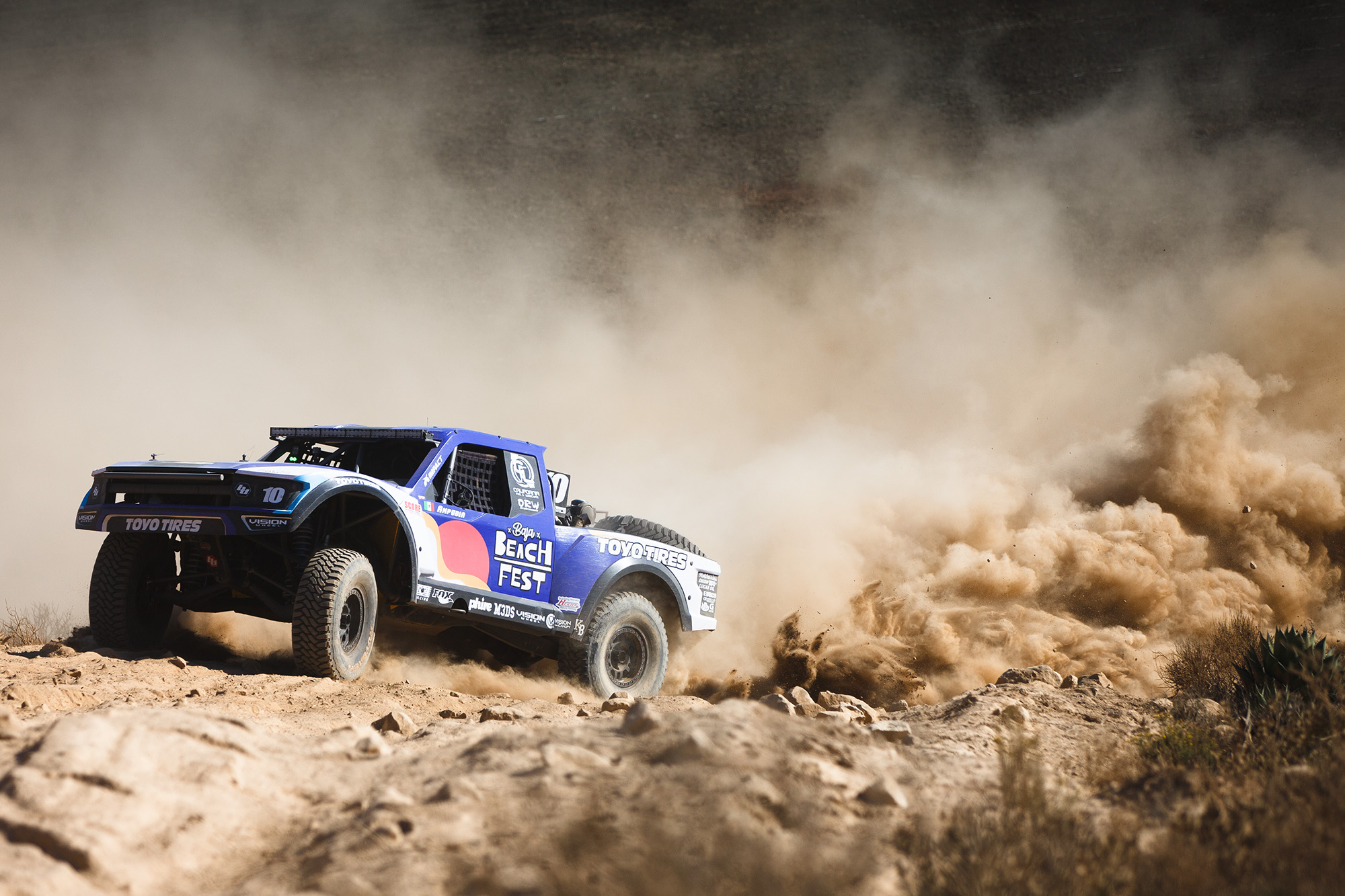 Alan Ampudia, in the #10 Baja Beach Fest truck was 9th off the line. He battled with the top five trucks all the way to the finish. In his post-race report, Alan said that they would have had 3rd but earned a flat tire with 15 miles to go, putting them back. They finished the race 4th overall – giving them a great start for the 1000 with Jax and Ken Block.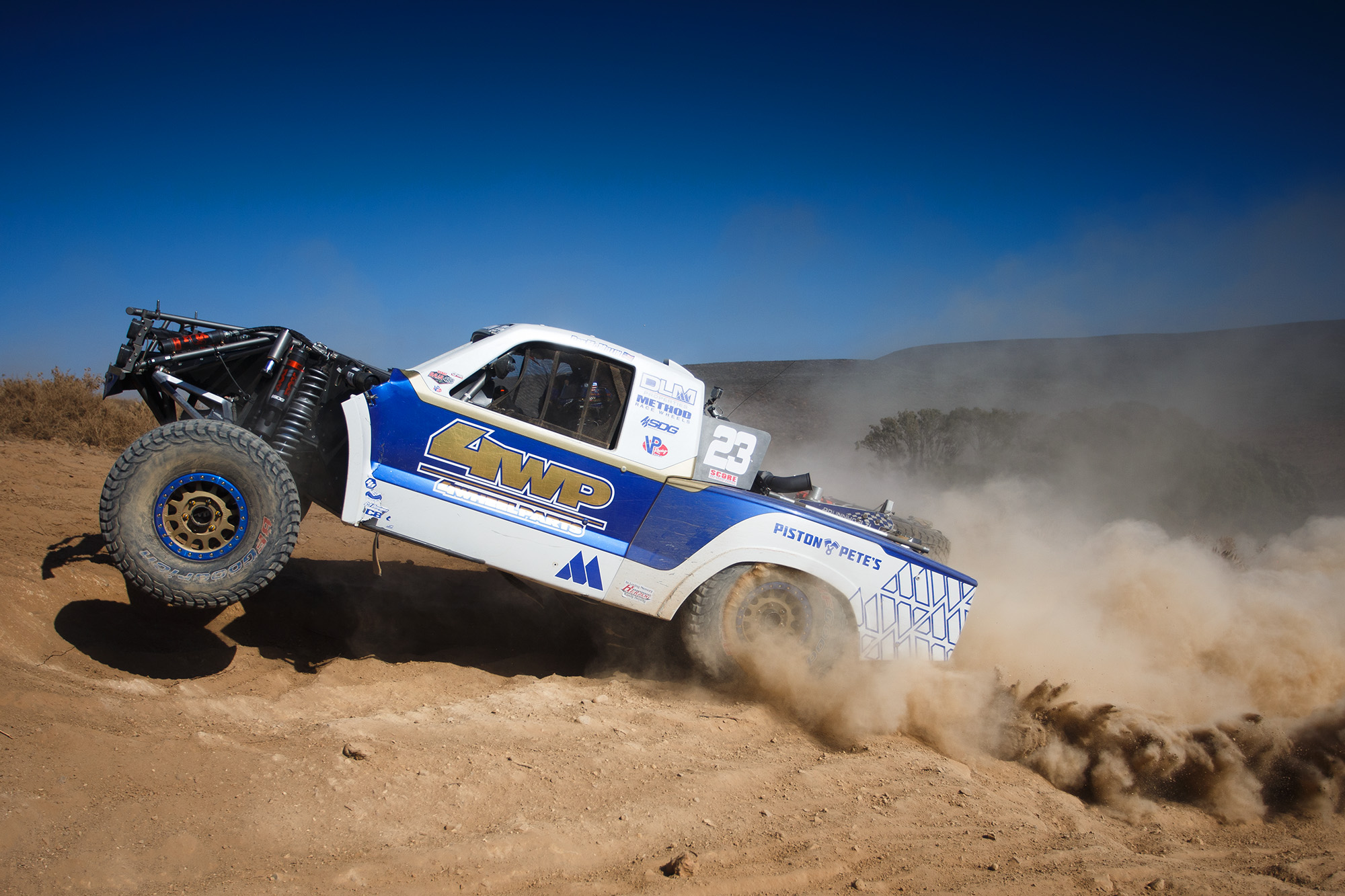 The #23 Mason-built truck of Dan McMillin struggled with a loose hood interfering with vision for a good part of the race. Once they got the hood removed, Dan moved up to battle with Jax and Alan in the top 5. He finished officially 5th, but will start  4th for the 1000 with Justin "Bean" Smith.
Ryan Arciero would wheel the #16 of Cameron Steele for this race. They had a clean, smooth run and finished 6th overall!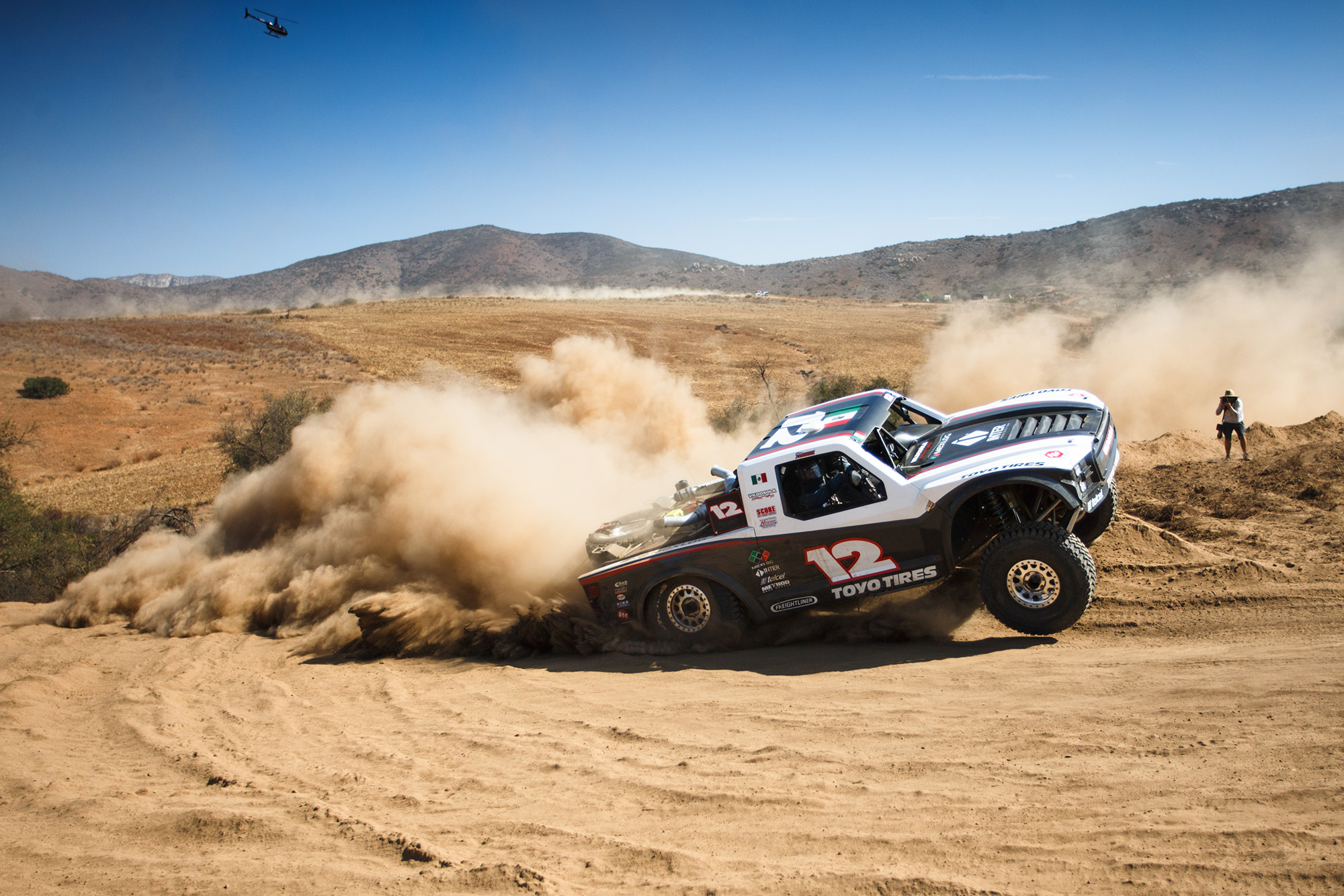 Gustavo Vildosola Sr brought out his brand-new Mason AWD truck to battle. Sr qualified in the 8th spot and finished in 7th with no penalties.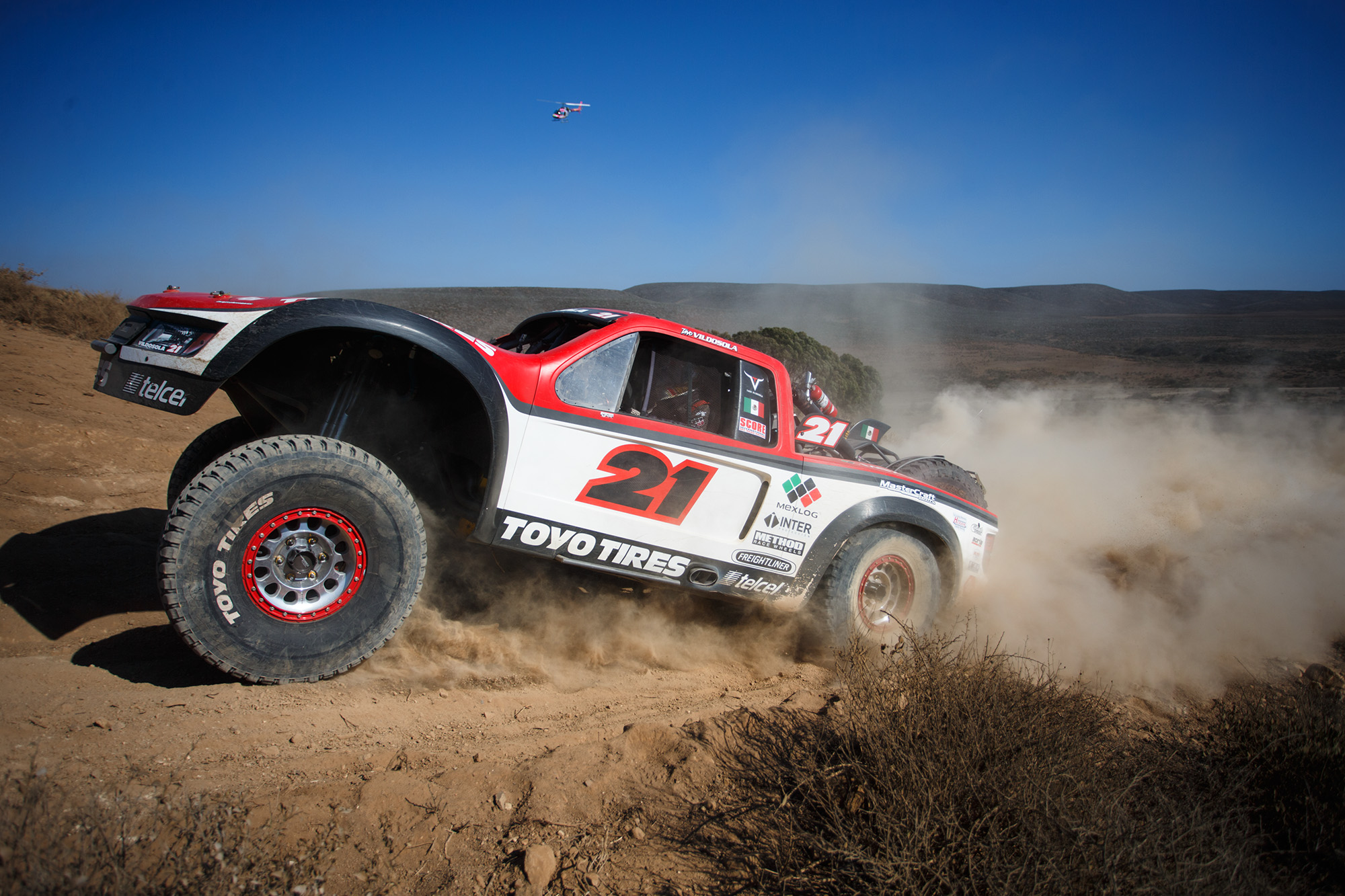 Not far behind Gustavo was his son, Tavo Vildosola in the #21 finishing 9th.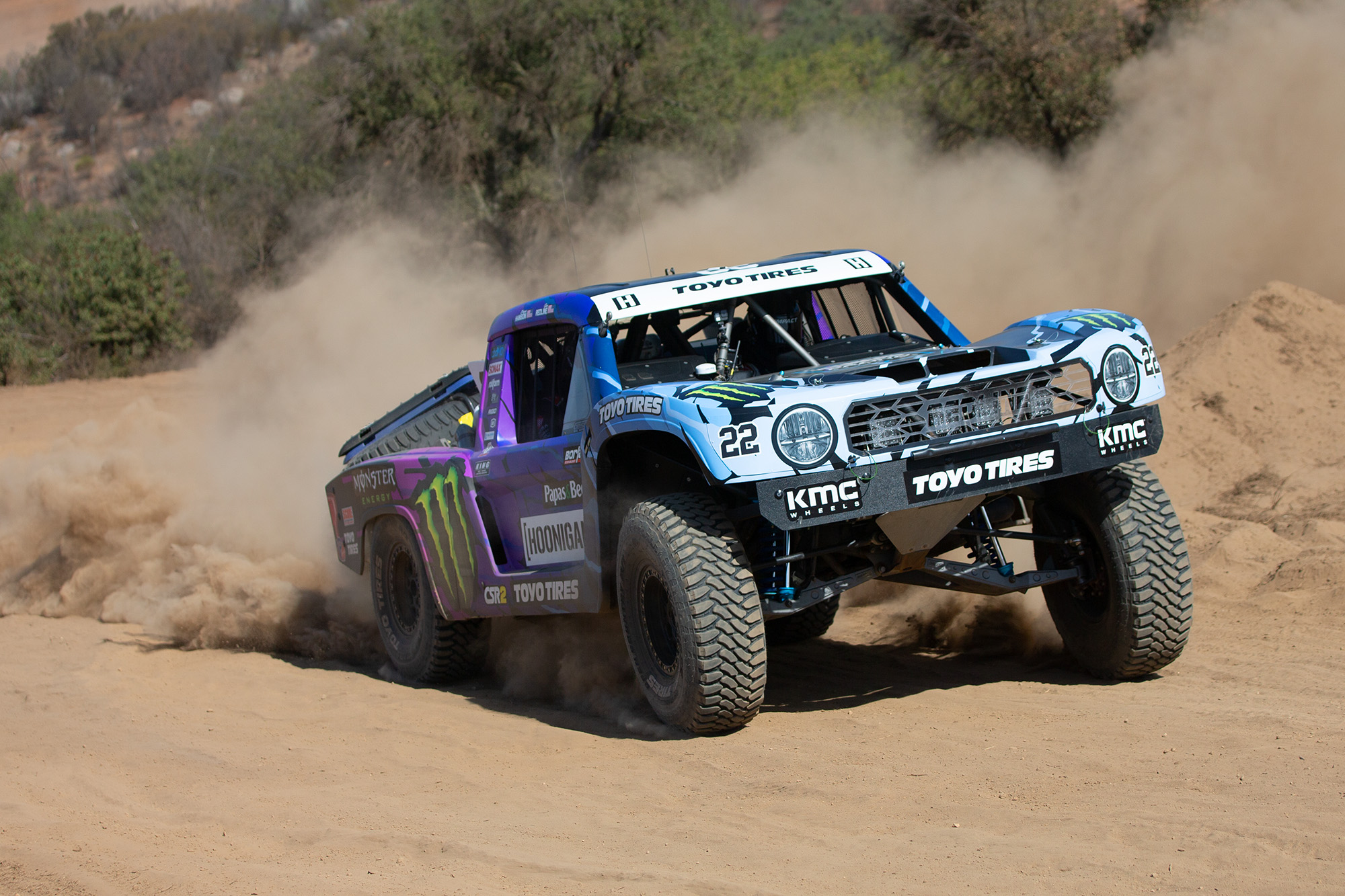 Jax Redline, racing the Hoonigan G6, ran in the top five all day and finished 3rd physically. Unfortunately an unplanned fuel stop was too close to the race course and the #22 was penalized 30 minutes, putting them in 10th place.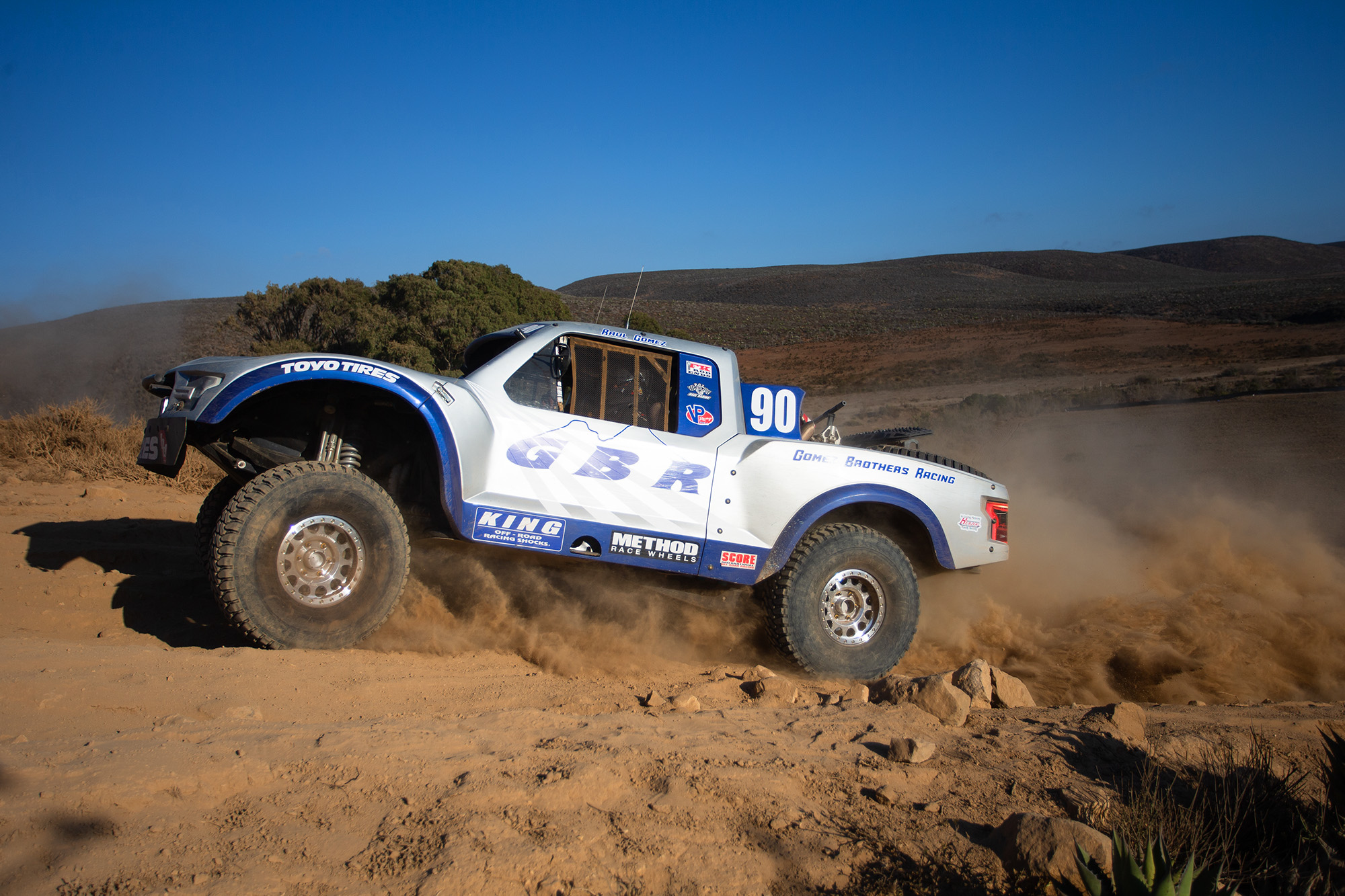 Raul Gomez ran a smooth race and finished 14th in TT!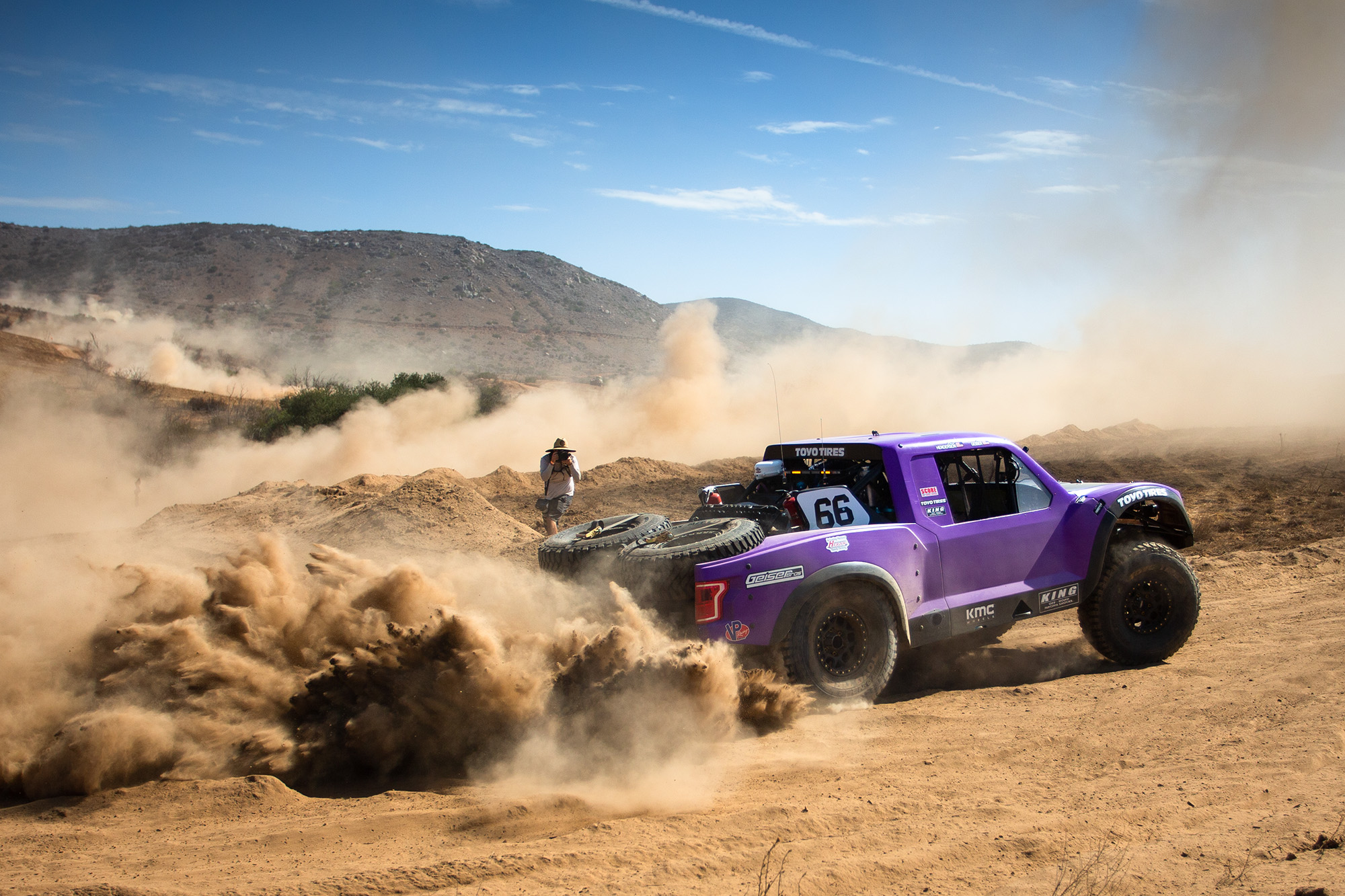 Shane Redline and Travis Clarke raced Jax's second Geiser truck under the #66. They faced a couple small mechanical issues but finished the race in 17th!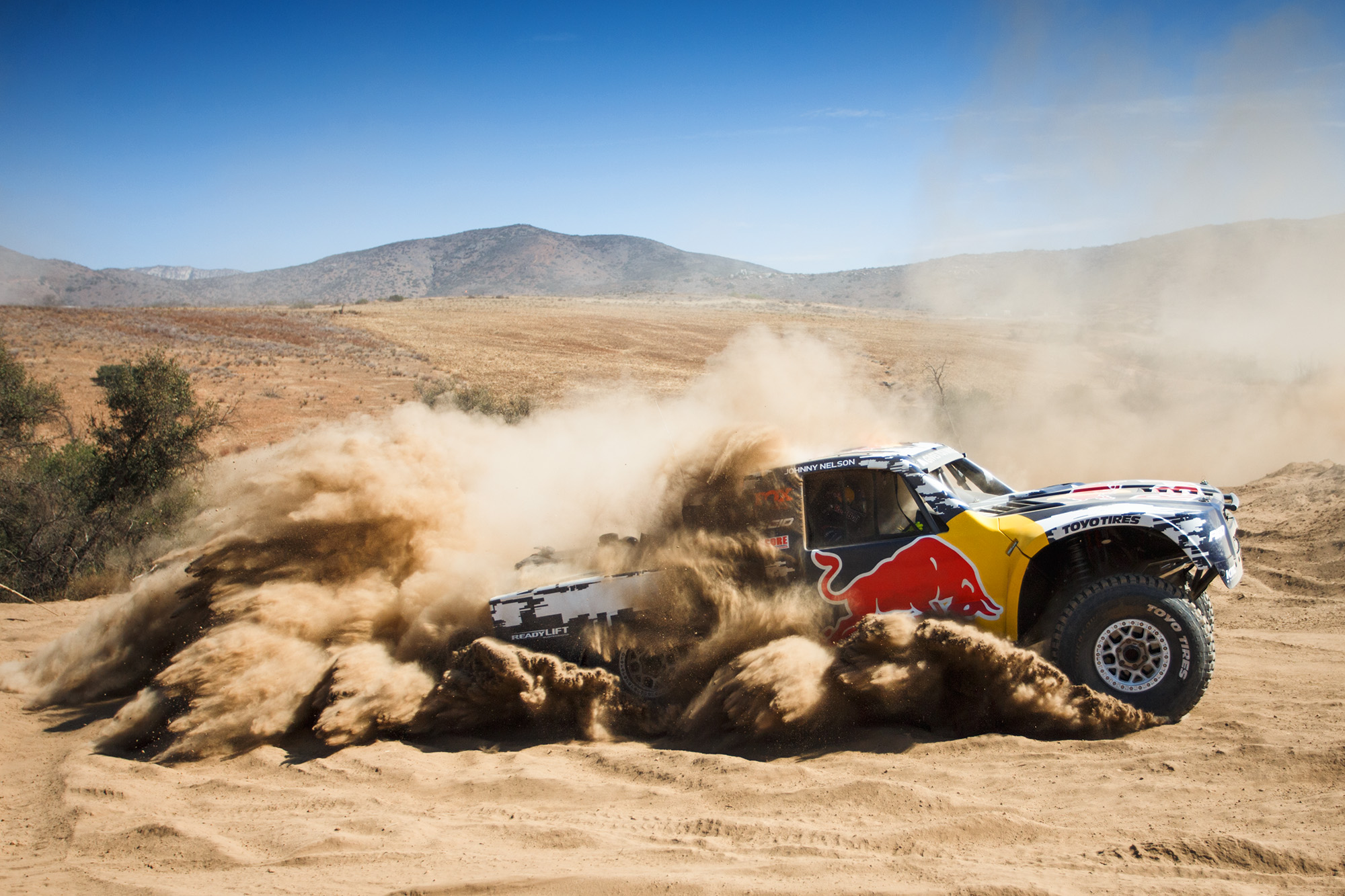 Andy McMillin had a scary crash totaling the truck, but fortunately both Andy and his co-driver Johnny walked away safely with no injuries. We are glad everyone is okay!
In the TT Legends class, Rolf Helland brought home his third consecutive win this season! The #37L will go into the 1000 leading the points after finishing 1st in every SCORE race this year.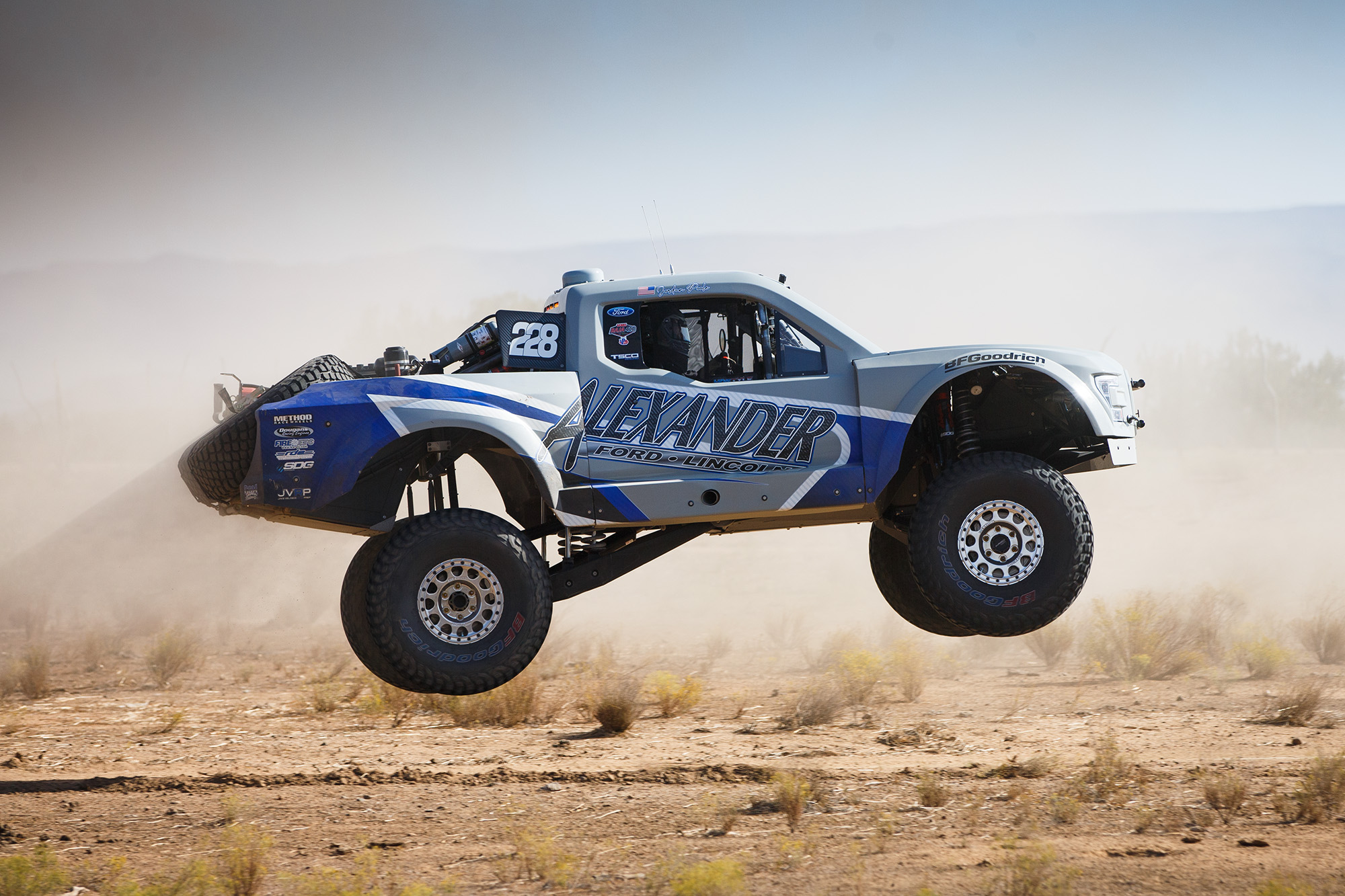 Trophy Truck Spec racers, Ryan Hancock and Brock Heger brought home 2nd place in class. They have finished 2nd every race this season, and are chasing down the win at the 1000!
Team DRE Baja 400 Results
TT
1st – #7 Bryce Menzies
4th – #10 Alan Ampudia
5th – #23 Dan McMillin
6th – #16 Cameron Steele
7th – #12 Gustavo Vildosola Sr
9th – #21 Tavo Vildosola
10th – #22 Jax Redline
14th – #90 Raul Gomez
17th – #66 Shane Redline
20th – #45 Gary Magness
TT Legends
1st – #37L Rolf Helland
TT Spec
1st – #228 Ryan Hancock