Dougans Racing Engines' Andy McMillin Wins his Third Career Baja 500
BJ Baldwin & Bryce Menzies Join Dougans Racing Engines with Debut at Baja 500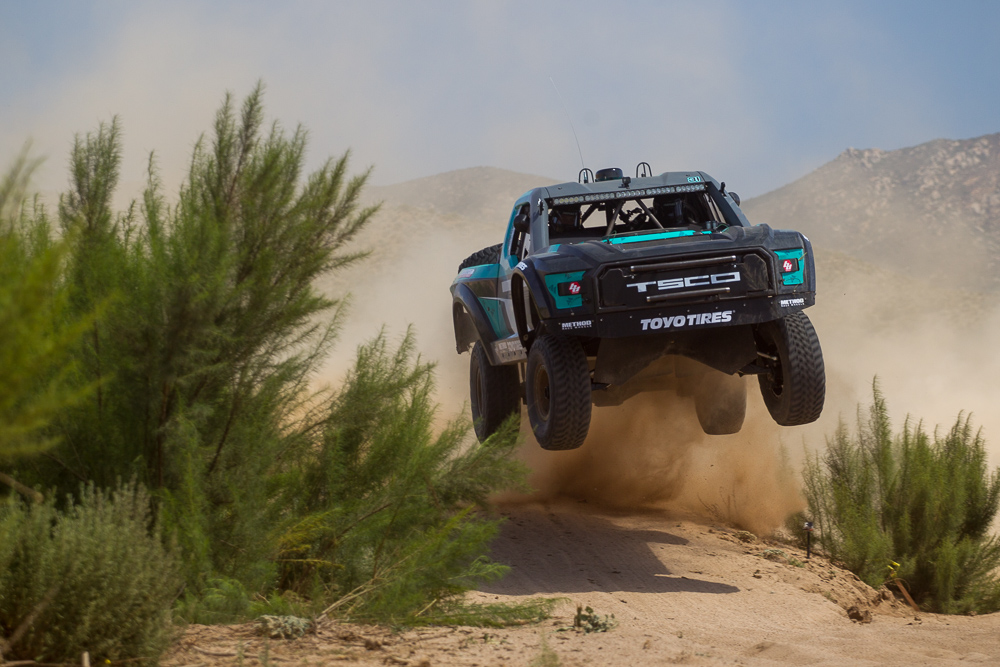 Dougans Racing Engines racers were in full force at the 2017 SCORE-International Baja 500. Of the thirty-two Trophy Trucks that took the green flag at its 49th running, seventeen trucks were outfitted with Dougans Engines ready to take on one of the roughest courses in recent history. With a time of 10:03:03.888, Andy McMillin conquered Baja to win his third career Baja 500 in the #31 TSCO Racing built truck.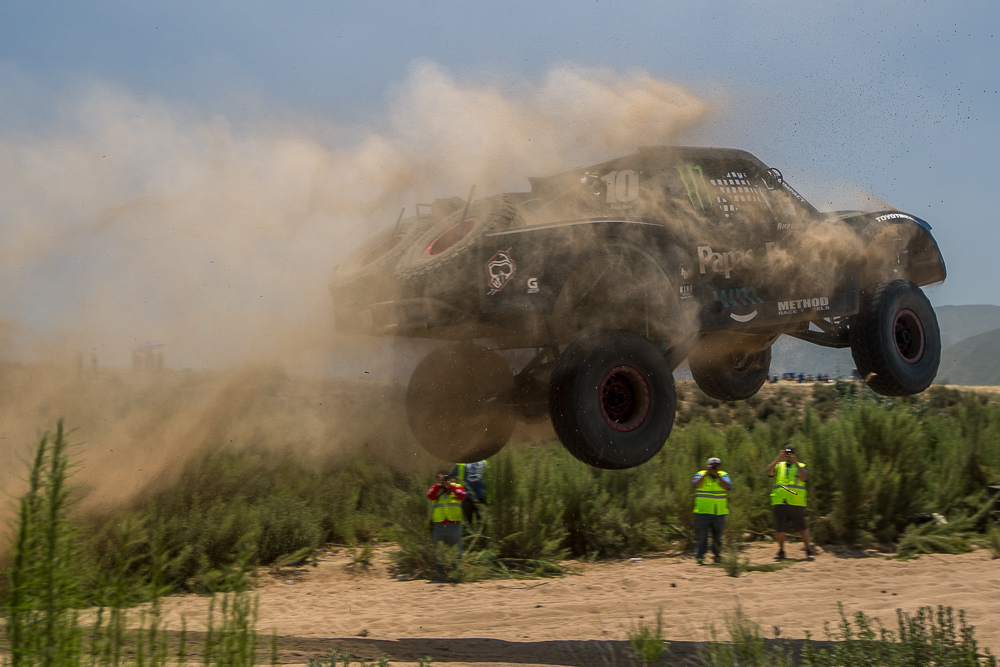 McMillin was fifth off the line on race day behind four other Dougans teammates who qualified top five on the 2.98 mile course at MD Vinos winery in Uruapan. Top qualifiers #10 Aaron Ampudia, #97 BJ Baldwin, #7 Bryce Menzies and #58 Tracy Graf and Andy McMilin were followed by #1 Apdaly Lopez and #16 Cameron Steele, to take seven of the top ten starting positions on race day. The Baja 500 was Baldwin and Menzies' first race outfitted with a Dougans Racing Engines.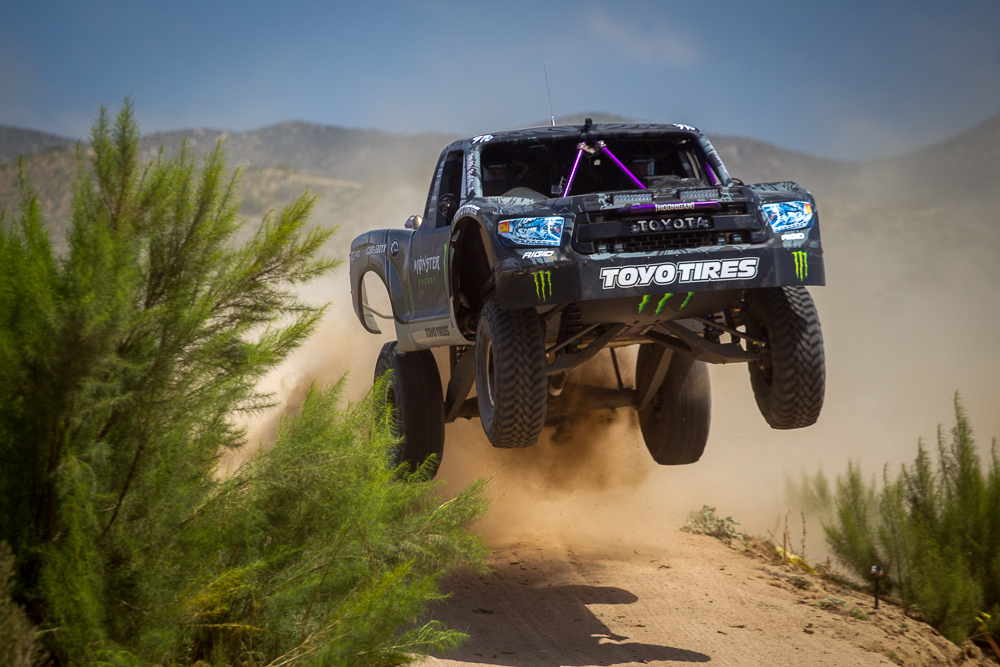 McMillin quickly made his way to the front after first passing Justin Smith in the #58 truck. By that point, BJ Baldwin had made his way around Ampudia and was out front physically. In a post before the race, Baldwin stated, "I'm not here for a podium finish. I'm not here for second place. I'm here to take exceptional risks if I need to and do whatever it takes to win." However, running a pace to remain out front, Baldwin made a costly mistake screaming down Mike's Sky Ranch that rolled the #97 ultimately putting him out of the race.
Ampudia and Menzies also succumbed to the treacherous course before the halfway point and the physical lead was handed over to McMillin. From there, McMillin was able to hold off a charging Justin Matney and Rob MacCachren to take the overall win.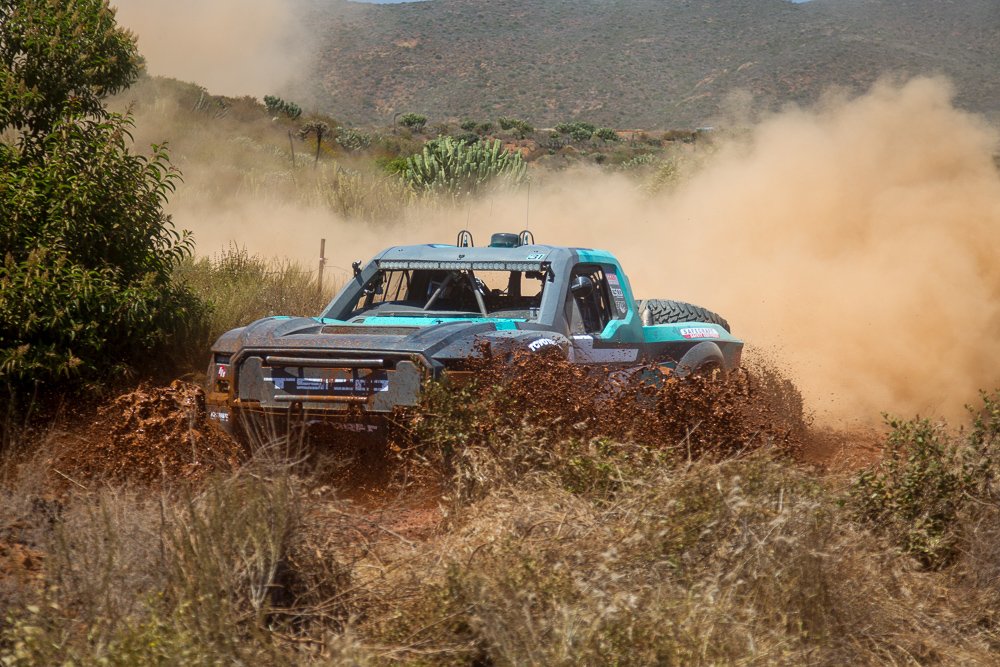 "Ever since I was a little kid I've been coming down here to Baja with my family that has been racing for 40 years and being the first vehicle to finish is something not a lot of people get to experience," commented McMillin. "When you are the first one coming through, and all the fans are screaming, it is a lot of fun."
RPM Off-Road, all outfitted with Dougans Racing Engines, had an impressive team showing. #4 Justin Matney put in the work needed to secure his podium finish. After two weeks and close to 2,500 miles pre-running, he was able to secure a second place finish in his four wheel drive RPM Off-Road Trophy Truck. Matney finished just +00:03:32 off of McMillin's pace, securing his best finish since the debut of the four wheel drive truck.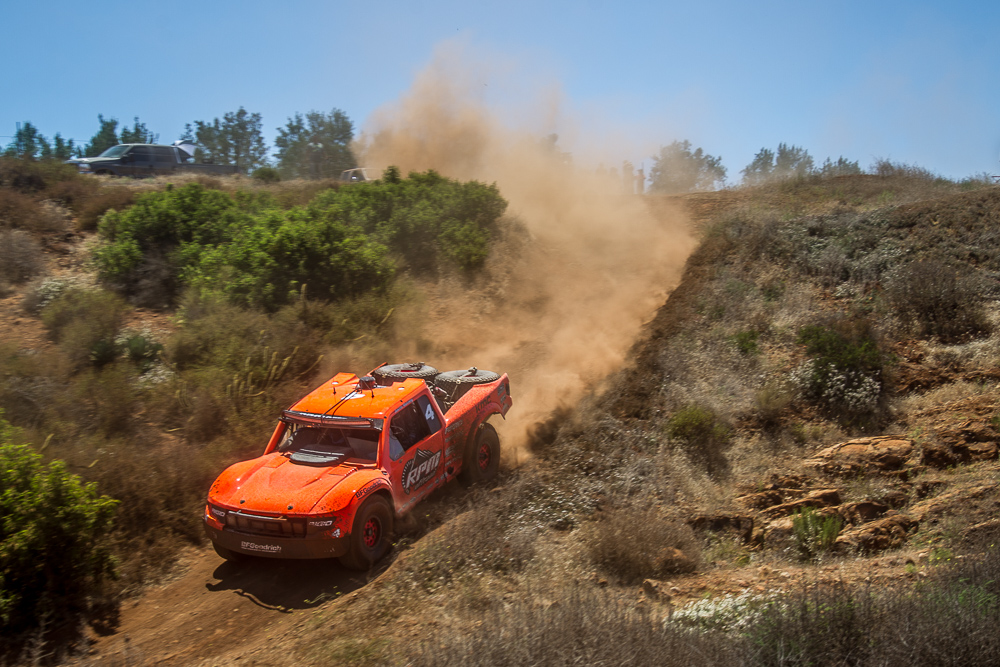 Matney's RPM Off-Road teammate Apdaly Lopez finished fifth overall. Lopez started seventh and moved up as far as fourth on corrected time. Near RM 180, Lopez lost some time after feeling a strong vibration and deciding to pull off to let their chase crew assess the truck. Lopez continued on but four flat tires left him finishing fifth with a time of 10:28:19.485. Armin Schwarz piloted the #9 RPM Off-Road Trophy Truck to a seventh place overall finish with navigator Bryan Lyttle.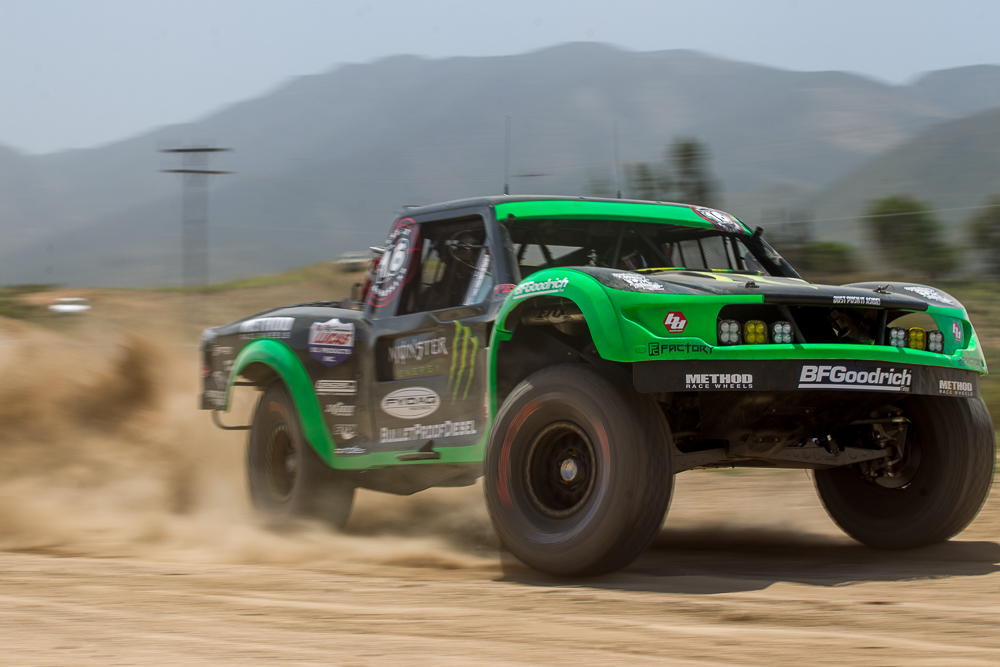 #16 Cameron Steele made his way up to third place physically on the road but two flat tires surrendered that position and Steele fell back to finish eighth in class and ninth overall.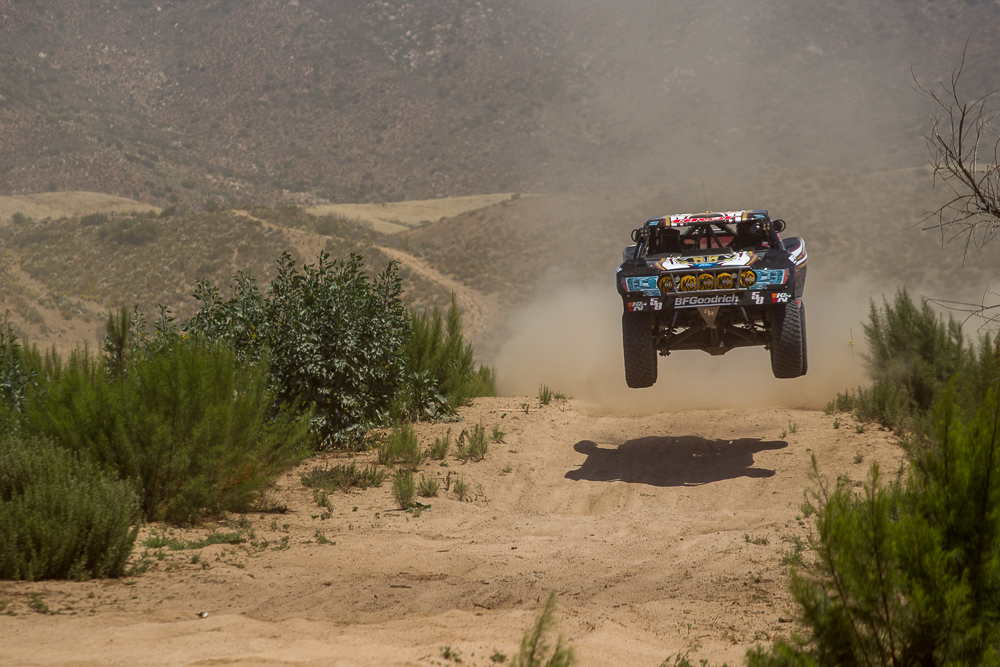 Justin "Bean" Smith qualified the #58 Trophy Truck fourth for Tracy Graf and did the first half of the race. Smith had some electrical issues early on but still brought the truck to mile 250 in great shape and a respectable position. Graf got in for the San Felipe loop which lived up to its reputation and lost his rear bypass shocks which made the last 200 miles challenging. In the San Matias wash, Graf encountered a sticking throttle which pushed him through a corner to double flat on a rock. Graf pushed on to finish twelfth in class and fourteenth overall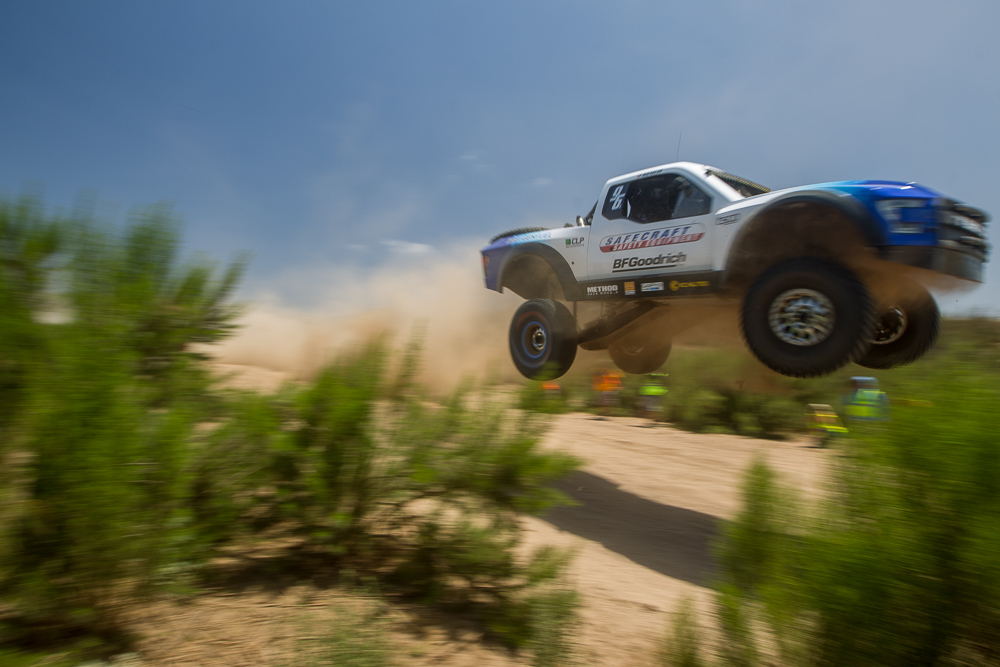 #96L Larry Roeseler won the SCORE TT Legends Class. His time of 10:33:06.686 earned him eighth overall, nearly an hour faster than second place class finisher #84L Nick Vanderway. Roeseler piloted the #96 Safecraft Safety Equipment Trophy Truck and at the finish line said, "This was definitely a race to remember. It was a very difficult and tough race but those are the challenges we live for."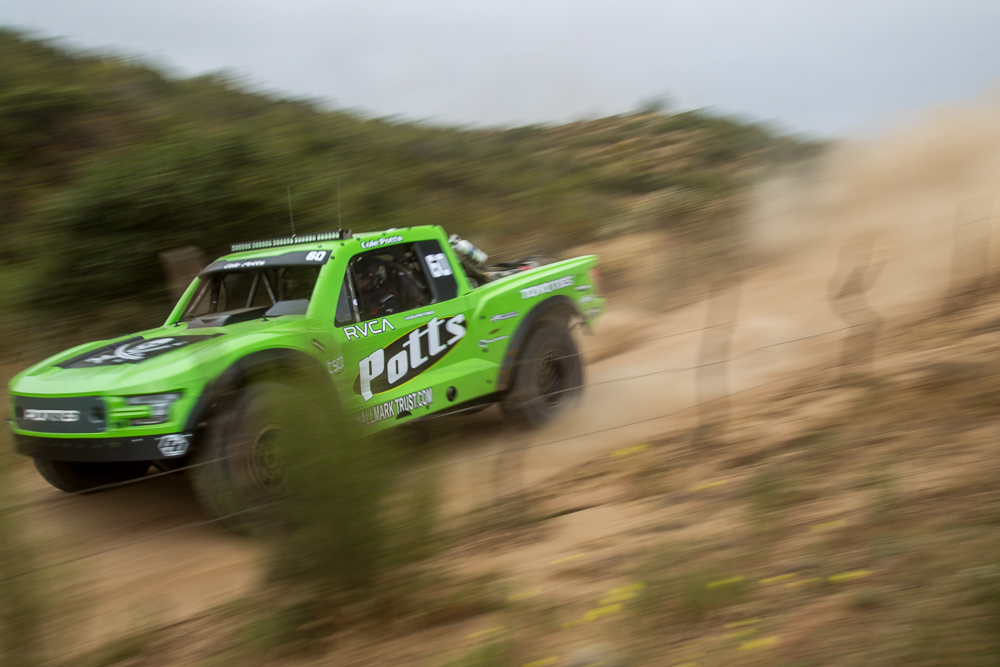 #60 Cole Potts was the fifteenth Trophy Truck to cross the finish line after running in to a few minor issues in San Felipe. TSCO Racing prepped hard to get Potts' truck solid for the race. Cole was able to put the hammer down and finish strong. #45 Gary Magness of Mango Racing had a solid 17th place class finish after and #30 Robbie Pierce persevered to the finish after battling alternator issues. Pierce was the final finisher in the Trophy Truck class with a time of 13:19:41.618.
#21 Tavo Vildosola, #7 Bryce Menzies, #38 Eric Hustead and #76 Jesse Jones did not finish the race. Dougans Racing Engines fielded one Class 1 car with #188 Sergio Salgado Vidal, who also did not finish the race.